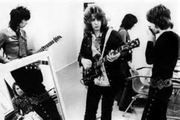 Hello everyone, and welcome to my user page. I have been a huge Stones fan since around last year, when I discovered there music. Was instantly hooked, the song was Let's Spend the Night Together. My job as an editor is to make this place a very fun, user friendly place where we can all find "discoveries of are own!"
The Rolling Stones, to me
Edit
The Rolling Stones are by far my favorite band of all time. Sure they all were BAD junkies, and have made some mistakes, but as Keith Richards says, "A mistake then, later on down the road becomes an accidental misfortune." The Stones in many ways are like one of those bands that get better and better. Personally, I think there glory days are over, they haven't released an album since 2007 which was A Bigger Bang. But they must be doing something right, because they've been jamming for 50 years!!! But the Stones have something other bands don't have, and thats power and the fact that they try to mix old "outdated" stuff and mix it with new music. That's how they have been around for 50 years.
Community content is available under
CC-BY-SA
unless otherwise noted.